He's taking time off to "focus [his] attention on being a better husband, father, and person", but apparently, Tiger Woods can stop worrying about that "being a better husband" task. Elin is heading for divorce court.
I love the photo that accompanied the article: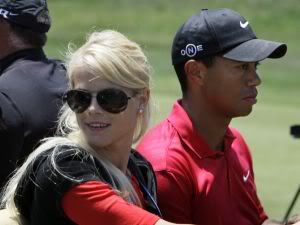 "Tiger Woods' wife, Elin Nordegren, rides next to Woods after winning the US Open championship against Rocco Mediate after a sudden death hole following an 18-hole playoff round for the US Open championship at Torrey Pines Golf Course on Monday, June 16, 2008 in San Diego." Look at that guy's face. He just won the U.S. Open, and he looks like he wishes he could be anywhere but there, then, with her. Further proof of the adage that no matter how hot a woman looks, somewhere out there, there is a guy who is sick and tired of sleeping with her.